Dr. Andrew Sodergren Honored at 2023 CPA Conference
Dr. Andrew Sodergren was honored at the Catholic Psychotherapy Association's 2023 Annual Conference with the Mother of Good Counsel Clinical Excellence Award.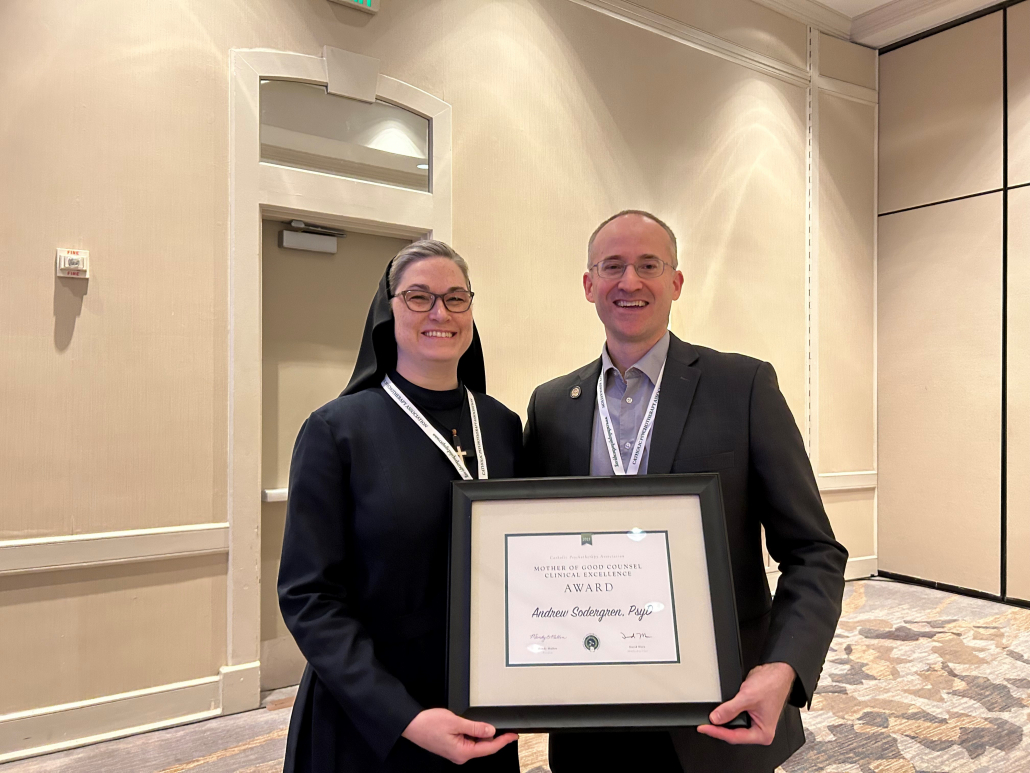 Prayer to Our Mother of Good Counsel
Composed by Sandra McKay, founding President of the Catholic Psychotherapy Association. She drew upon writings attributed to Pope Saint Pius XII, who was devoted to Our Mother of Good Counsel.
Our dear and sweet Mother whose counsel is ever-wise and knowing, we consecrate ourselves to you, Our Mother of Good Counsel. Grant your intercession throughout the days of our world with people in need.
Place in our hearts and on our lips the words of healing that Your Son would have us know and say. Grant us the gifts of Healing and Wisdom that our work might always serve God and His desire for holy and healthy people, marriages, families, and communities.Oh Holy Mother Mary, we pray that you will intercede for us that we may teach and live the holiness of the Sacrament of Holy Orders, the Sacrament of Matrimony, or our vocation in this life, and that we may always have a full and complete respect for the dignity of each human being and that we may love and teach loveas we have been taught by Jesus Himself, you and all the saints. Amen.
Dr. Sodergren was featured as a plenary speaker at this year's conference, In the Beginning…Treatment and Healing of Human Sexuality.
Dr. Sodergren's presentation provided a sound theological and psychological understanding of the sexual difference (male and female) and a thorough review of the literature on psychotherapeutic approaches to working with gender dysphoria. The first part laid the foundation by reviewing Catholic teaching on sexual difference with special emphasis on the work of Pope St. John Paul II. Next, was an extensive review of the scientific literature on sex differences. Dr. Sodergren detailed a developmental approach to understanding male and female that incorporated key findings from biological, psychological, and neuroscientific studies. The second reviewed the extent of professional literature on psychotherapeutic responses to gender dysphoria. Clinical observations, theory, and case studies were reviewed spanning psychodynamic, behavioral, and integrative approaches. The testimony of and research on detransitioners was also be reviewed.
https://www.rwpsych.org/wp-content/uploads/2023/06/Sodergren-Award-2023-scaled.jpg
1920
2560
Dr. Emily Dowdell
https://www.rwpsych.org/wp-content/uploads/2023/09/RuahWoods_WebBanner-1.png
Dr. Emily Dowdell
2023-06-12 15:49:24
2023-06-20 17:11:56
Dr. Andrew Sodergren Honored at 2023 CPA Conference