What is "Theology of the Body" [& Why Is It Important]?
[Note: This article is the start of an extended series in which I will reflect on, explain, and apply Pope St. John Paul II's "Theology of the Body" to contemporary issues.]
Have you heard of "Theology of the Body?" This term has gotten quite a bit of attention in Catholic circles in recent years, but many people do not understand what it is or why it is relevant for them. While this is completely understandable, my hope is that by the time you finish this article, you will have a clear picture of what we conveniently refer to as "TOB" and even a desire to learn more of it.
It is impossible to understand TOB without first reflecting on its originator, Pope St. John Paul II. Born in Poland in 1920 as Karol Wojtyła, he lived through the horrors of Nazi oppression, World War II, and the communist takeover of his beloved nation. He bore witness to the violence and atrocities carried about by man against man in the 20th century. He himself was no stranger to tragedy as he lost his mother and older brother in childhood and his father at age 20. Wojtyła increasingly turned to God, the Blessed Mother, and his Catholic faith. As a priest and later bishop, he spent years ministering to the needs of the Polish people, listening to their fears and struggles, striving to understand their experiences as deeply as possible and stir up the hope that comes from faith in Christ.
In addition to being a pastor, Wojtyła was also a renowned scholar. He was a poet, playwright, philosopher, and theologian. Of particular interest in his scholarship was pondering the nature of the human person, Carmelite spirituality, the nature of love, marriage, and morality. The historical context of his pursuits was the immense violence and social upheavals of the 20th century as well as the shifting of moral attitudes in light of the so-called sexual revolution.
As a newly ordained auxiliary bishop and later Archbishop of Kraków, Karol Wojtyła participated in all four sessions of the Second Vatican Council (1962-1965). His stature and reputation as an outspoken, courageous young bishop of immense intellect grew to the point where he was appointed to the committee that drafted perhaps the Council's defining document, the Pastoral Constitution on the Church in the Modern World (Gaudium et spes). Inspired by this experience, Archbishop Wojtyła later became the only participating bishop to write an entire book summarizing the teaching of the Council and giving guidelines for its implementation (Sources of Renewal). Not long after, Pope Paul VI named him a Cardinal, perhaps as a way of thanking him for his contributions at the Council and for serving him as a key theological advisor during his papacy.
In the 1970s, Cardinal Wojtyła began writing his magnum opus before the Blessed Sacrament in his private chapel in Kraków. Reflecting on all he had learned and experienced in his own life, his studies, his prayer, pastoral ministry, and his participation at Vatican II, Wojtyła penned a manuscript for a book on the nature of the human person, love, marriage, and sexuality. Before he could get the book published, something happened that changed the course of history; he was elected as the 264th successor to St. Peter and the first non-Italian pope in 455 years, taking the name John Paul II. As pope, he understood his mission to be the faithful implementation of Vatican II and the shepherding of the Church into the Third Millennium.
John Paul II also saw his election to the papacy as a sign that the Holy Spirit was calling him to present his teaching not only to the Polish people but to the entire Universal Church. He decided not to publish the manuscript he had just completed but brought it with him to Rome and used it as the basis for a long series of speeches delivered to the Church and the world at his weekly general audiences between 1979 and 1984. Throughout, John Paul II used the phrase "Theology of the Body" as a working title for his reflections. Few appreciated the profound gift and legacy he was entrusting us at that time. Today, those separate speeches have been re-assembled, re-translated, and presented anew under the title Man and Woman He Created Them: A Theology of the Body (trans. M. Waldstein, Pauline Books & Media).
At first glance, the term "Theology of the Body" seems strange. Theology is about divinity and spirituality. What does the "body" have to do with this? Essentially, John Paul sets out to reflect on our common humanity, which is inherently bodily, and understand it in light of Divine Revelation (i.e., Scripture and theology), philosophy, and ordinary human experience. He is especially interested in how our body reveals our identity, our vocation, and how it participates in Divine Love. In reflecting on the human body, one cannot help but encounter the reality of sex (i.e., that we are created male and female). John Paul does not shy away from this topic but plunges headlong into it to illuminate our understanding of sexual identity, sexual difference, marriage, and family.
It is important to point out that TOB is not a break from Catholic tradition.  Rather, it is a creative re-presenting of perennial truths about the human person in a way that appeals to the experiences and issues we face at the start of the third millennium.  It helps us understand who we are, what we are made for, and how we are to live.  It gives us a framework for addressing some of the most difficult moral and pastoral issues facing us today and points out a path to find our deepest fulfillment.  As we begin this series of articles on TOB, I pray you will walk with me with an open heart and mind, eager to receive anew the gift of our embodied humanity. 
Continue Reading: Original What???  John Paul II on "Original Experiences"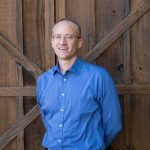 Dr. Sodergren's Introduction to Theology of the Body: A Collection of Articles from the Catholic Telegraph
Written by, Dr. Andrew Sodergren, M.T.S., Psy.D.,
Director of Ruah Woods Psychological Services

(Article originally published in The Catholic Telegraph, July 2021 Issue, the official magazine of the Archdiocese of Cincinnati)
https://www.rwpsych.org/wp-content/uploads/2023/06/@UnSiCCjgYjUudxE.jpg
1920
1280
Dr. Andrew Sodergren
https://www.rwpsych.org/wp-content/uploads/2023/09/RuahWoods_WebBanner-1.png
Dr. Andrew Sodergren
2023-06-20 01:16:00
2023-06-20 17:38:09
What is "Theology of the Body" [& Why Is It Important]?