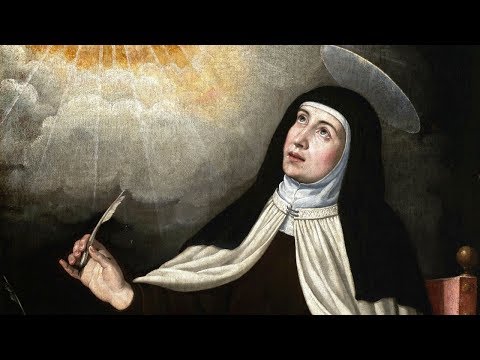 Behind the Edifice and Under Construction by Dr. Michael Murphy

Have you ever had that book that just keeps coming up in your life? Maybe someone suggests it, and then you see it at the bookstore, and then your favorite podcast brings it up again? Maybe the universe just wants you to read it? I doubt it though, since the universe is a cold, infinite void that can only "want" entropy and a slow decline towards absolute zero. In any case, that book for me was The Interior Castle by St. Teresa of Avila. Honestly, it was one of those times I am glad I procrastinated in acquiring it. Having finally gotten the book, there have been lots of times reading it when I just nod to myself and say, "Okay, I guess there are people in the world that experience things like this," and then move on humbly. But there were many good teachings in that book, and I now know that I might have started with the easier book The Way of Perfection (plenty of irony there). Still, I wanted to share a few bits of what I have gained from reading The Interior Castle.
First of all, St. Teresa of Avila wrote the book specifically for one target audience: her fellow religious sisters of the monastery of which she was superior. Most of us are not that audience. But, being able to step in and listen to St. Teresa's words gives one the chance to reflect on those faithful women. These are the kind of special people interceding on behalf of the rest of us "in the world" through their unique gift of self, and I feel very grateful for them. "Pretending" to be the recipient of St. Teresa's words can also inspire us to imitate something of what she and her sisters did. Below are three considerations I have taken away from her urgings.
Life is about the protection and development of the soul. The entire book is dedicated to clarifying how the soul can take right paths to grow closer and closer to God, even if that sometimes means a person does nothing more than what is required of him by vocation. While she emphasized more than once that the body is to be cared for, the soul is what is most precious and is the dwelling place of God within the person. How often do we even think of our soul unless we are in mortal sin or peril? For these sisters, life seems like an early purgative state in which they journey towards God and, with their prayer, draw others up towards God too.
Can anything like this be a part of one's worldly life outside a cloister? It made me think with more humility about the therapy work I do. To be sure, working to improve someone's mental health means that their body and mind are better ordered, and so grace works more easily on it. However, am I working as diligently on my vocation such that my soul grows? St. Teresa wrote that mundane tasks done in obedience do much good for a soul, even if that person would rather be in contemplative prayer. How often do our own desires take precedence over legitimate duties or callings? Put another way, how often do we get caught up in earthly progress with little consideration to how that progress affects the soul?
Do not seek divine favors. Petitionary prayer is an important type of prayer. We do it every week at Mass. But what St. Teresa cautions her sisters about is the inordinate desire for spiritual favors sometimes received in prayer. Put another way, she tells them not to look for or hope that God will act with special grace in their souls or fill them with consolation. She approaches this point from several angles in The Interior Castle. For one, St. Theresa does not want us to be misled in prayer by the Devil and his agents who appear as impostors. Second, she indicates that divine favors are granted by God for His good reasons and for the benefit of the soul. She adds that divine favors are not granted due to merit and makes a point that many who are less holy and less worthy often receive special graces. Third, she emphasizes that if we are to grow in humility before God, then we ought to surrender to His plan rather than our preferences. We are not to be common workers (e.g., handmaids of the Lord) who think ourselves worthy of kingly treatment and deference. We are better off trusting that the Lord knows best how to bless us. Fourth, St. Teresa offers interesting advice about how we are to view the reception of divine favors in our life. On one hand, she encourages the person who receives them to be ever grateful and give glory to God. What is interesting is that she also encourages us to think little of the special graces we might receive in prayer. Put a different way, the grace received from God was His doing, for His purpose, and will fulfill its function without us having to do anything. We would do best not to become obsessed or preoccupied by it. St. Teresa seems to always usher her sisters back to a place of humility before God, and perhaps receiving special graces in prayer only increases the need for this.
Suffering is an honor and gift of which we are not worthy. St. Theresa has a way of writing that entices the reader to consider things that, from a popular perspective, do not make sense. The popular stance in this case being that suffering is bad, and we do not deserve to suffer. St. Theresa points out that suffering continues in a person's life no matter how advanced they are in the spiritual life. She helps us find and grasp the conviction that progressing in prayer does not mean the end of suffering. But she goes further and challenges her sisters to develop a desire for "many crosses." This already is a great challenge for many of us: to muster any desire at all to suffer for Jesus' (or a fellow sinner's) sake. But in my opinion, she sheds a greater light still on the subject when she declares that the more advanced a person becomes in prayer, the more they understand that suffering is a precious gift. She would encourage us to consider bearing suffering, ultimately, as a task in the salvation of our soul, the souls of others, and in glorifying God. To put it a different way, we are not worthy to be admonished (and thus redeemed) by suffering; God is loving us when He allows us to suffer. We are not worthy to suffer with Christ for the salvation of others. Thus, suffering, big and small, is a privilege.
It is a challenging but immensely edify teaching. Imagine understanding this teaching, believing it, and then being diagnosed with cancer. Such a person would know that this disease and its treatment will change his life forever. But more than that, he would feel grateful. If his humility is sufficient, he could see this disease as a gift he is unworthy to receive. He might also feel the more typical feelings someone has when they are diagnosed with a deadly disease, but, for some, these emotions might be transformed by faith, humility, and gratitude for the gift of suffering.
If you do not have a book that is haunting you, I would recommend The Interior Castle, especially if you would wish to learn from a mystical doctor of the Church. Many of us, myself included, have desired a speedy ascent in the spiritual life. While desiring to be closer to God is laudable, I came away from this book with a greater humility and trust in God's gradual work in the soul. He may work great wonders or labor subtly over years. Regardless, The Interior Castle helps us know more about His work in our souls and our part in this process.
https://www.rwpsych.org/wp-content/uploads/2021/06/st-teresa.jpeg
360
480
Dr. Michael Murphy
https://www.rwpsych.org/wp-content/uploads/2022/12/RWPS-Logo-for-home-page-300x71.png
Dr. Michael Murphy
2021-06-30 00:29:44
2022-10-26 17:59:45
Behind the Edifice and Under Construction by Dr. Michael Murphy